A question about the features of the logistic drone, its autonomy or its advantages? We answer all your questions in this article
1. Who are the customers who use the EYESEE inventory robot?
The solution is adapted to each type of warehouse:
Distribution centers

Industrial production/maintenance sites with rack storage

Logistics service providers (3PL)

Retailers using racks
The logistic drone can be used in warehouses along the value chain (raw material warehouses, production sites, finished goods warehouses). All you need is a palletized warehouse.
Among our customers who have deployed the solution in Europe
 2. What kind of tags can EYESEE read?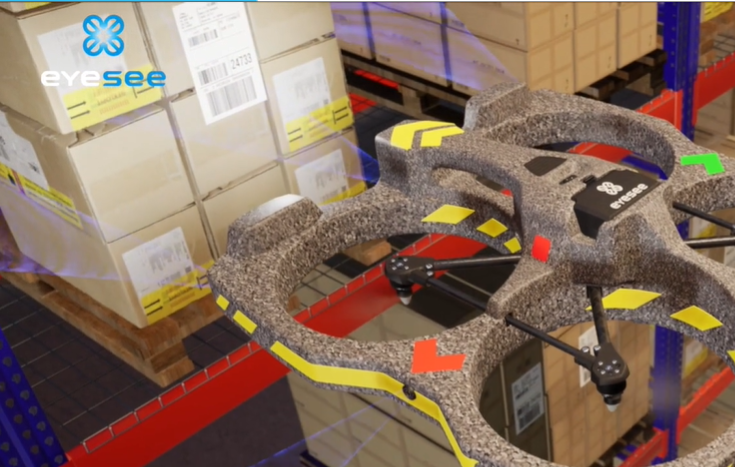 3. Is the drone able to count?
No, the logistic drone EYESEE does not count stocks (the number of goods on a pallet). This drone is designed to ideally read the HU tags (barcodes on full pallets filmed in the Handling Unit). It provides accurate stock data with photos and thus allows to detect empty pallets, obstacles and to anticipate position errors beforehand.
4.

How long does it take to scan a warehouse?
It depends on the type of inventory you adopt and the frequency you use the solution. Another important factor is the size of your warehouse. The EYESEE solution can read an average of 400 locations per hour and the battery pack provided allows for about 2 hours of flight time. The calculation is simple :). Depending on the warehouse and the size of the locations, the efficiency can reach 800 locations per hour.
5.

Is the drone fully autonomous?
No, EYESEE is a solution that requires the presence of an operator to supervise the flight of the drone. However, the operator does not need to be trained to fly the drone or to use joysticks. Simply pressing the buttons on the application is enough. During an inventory mission, the drone operator makes sure that the flight is going well, and can also report problems on the tablet application (points of interest related to the goods, the pallet or the rack for example).
When the logistic drone finishes its inventory mission (one side of an aisle) it lands and touches down. The operator must also change the battery when necessary and move the drone to the next aisle.
6. How long does it takes to deploy the solution?
It's quick. There are a total of 3 training sessions: 2 short sessions of training on EYESEE Cloud remotely and 2 to 3 days of training on the use of the drone on site (most frequently when the equipment is delivered). It is not necessary to have a telepilot license.
These sessions are spread over a typical period of 12 weeks from the date of order (can be accelerated depending on stock availability).
Important point: no infrastructure or addition of codes or labels for localization is required.