EYESEE exhibited its latest innovations in warehouse technology at the 40th edition of the Transport and Logistics Innovation Week (SITL), which took place from March 28 to 30 at the Porte de Versailles in Paris.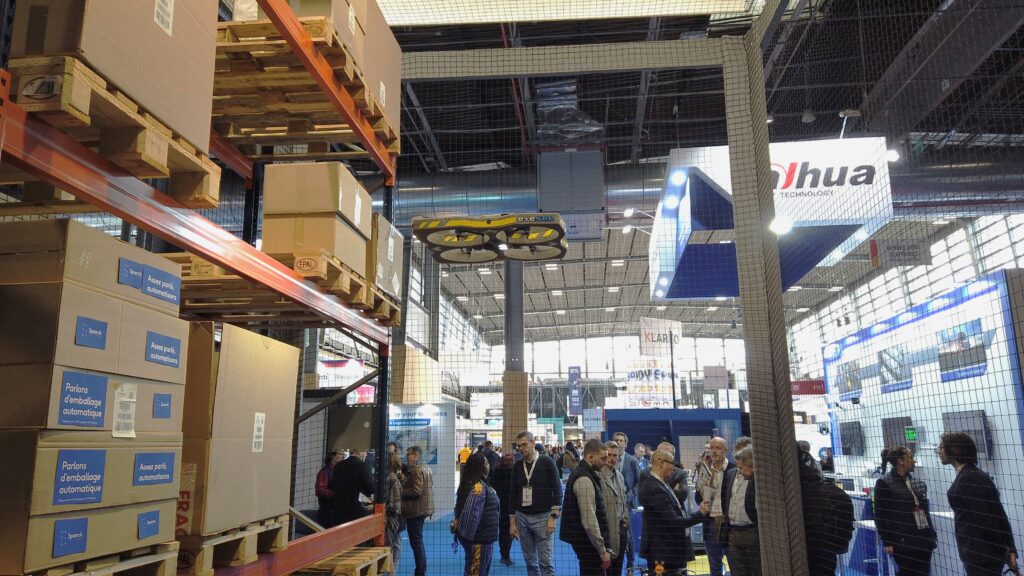 SITL has become one of the main events for transport and logistics professionals. The international trade show, which is celebrating its 40th edition this year, brings together all supply chain players from sectors as diverse as intralogistics, robotics, IT systems and logistics real estate. The 2023 edition gathered more than 24,000 participants and 500 exhibitors.
For this 40th edition, the inventory by drone was in the spotlight on our booth D113.
On this occasion, participants were able to see the drone in flight in the Drone Valley and discuss with our team.
EYESEE is a solution designed to help manufacturers and logisticians increase their operational efficiency. It allows to carry out the inventory by collecting automatically the data of stocks of the warehouses. The solution can be deployed in a few days, without any modification of the warehouse or addition of infrastructure.
With an average productivity of 400 locations/hour, EYESEE allows you to increase the reliability of your inventory data while reducing the risks on your site.
The drone inventory solution complies with all current industry standards. It helps 3PLs and logistics departments of manufacturers to eliminate inventory errors before they become downstream problems. L'Oréal, Bayer, GKN Driveline, Le Roy Logistique, Ikea, Aptar and many others have already chosen EYESEE. 
Video review of the highlights of this event:
Interested in deploying the EYESEE solution in your warehouse?
Check the eligibility of your site by clicking on the button 👇